Artemis funds win Investment Week's Fund Manager of the Year awards
According to Investment Week, the aim of the awards is to "highlight funds that produce consistent performance and where there is, in the judges' opinion, a high chance that the manager will not disappoint in the future".
This year's Investment Week awards ceremony marked the 22nd annual Fund Manager of the Year Awards. The awards recognise the outstanding achievements of fund managers across the industry. They cover both offshore and onshore funds registered for sale in the UK and celebrate the best of what is available to UK investors.
All nominees are subject to a rigorous judging process which ranks funds on key areas of skill over the three years to 31 March 2017. This year, the grand judging panel was made up of 18 judges and its final decision was informed by the recommendations of over 100 expert fund selectors. Each considered fund was given a weighted score depending on its percentile ranking within its sector: 20% for 2015; 30% for 2016 and 40% for 2017. The funds' Sortino ratio was also included within this score – this ratio gives an indication of relative risk. Following this process, the shortlisted funds were asked to fill out a questionnaire about the fund and its contributing factors. The expert fund selectors then reviewed each fund within the category of their expertise and made recommendations to the judging panel.
The awards place great emphasis on consistency of managers: in order to qualify for an award, a fund's manager needs to have been managing the portfolio for at least three years. Despite high levels of turnover within the industry, Investment Week believes that "top managers tend to be those who stick with their portfolios for the long term."
The Artemis Monthly Distribution Fund won the award for the best '(IA Mixed Investment 20%-60% shares) Cautious' fund.
The Artemis Global Income Fund won the award for the best 'Global Equity Income' fund.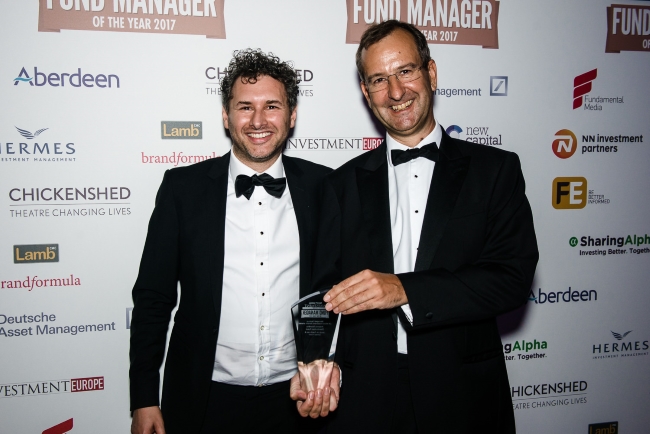 James Foster and Jacob de Tusch-Lec receiving their Investment Week's Fund Manager of the Year Awards.
To see all the award nominations and winners visit the Fund Manager of the Year Awards website (opens in a new window).