The Hunters' Tails: In the lee of Kim Park's shin...
It's a big one. Today, the European Banking Authority (EBA) and the European Securities and Markets Authority (ESMA) publish their joint report on the functioning of the Capital Requirements Regulation (EU) No 575/2013 (CRR) with the European Market Infrastructure Regulation (EU) No 648/2012 (EMIR). Their consultation on Guidelines on the Assessment of the Suitability of the Members of Management Body and Key Function Holders also completes today. In the EU's mores, what Frances Darwin Cornford called the "long littleness of life" stands hale. Sensing freedom from such supposed subjugation, Brexiteers rejoice.
"A young Apollo, golden-haired,
Stands dreaming on the verge of strife,
Magnificently unprepared
For the long littleness of life."
Meanwhile, largely on Trumpery and Keynes' "animal spirits", the Dow has crossed 20,000 at last. It saw 1,000 on 14 November 1972; 5,000 on 21 November 1995; 10,000 on 29 March 1999; and 15,000 on 7 May 2013. Its way through 20,000 started at 6,547 on 9 March 2009, when the present bull market began; and so it is up 207% since then.
The 20,000 matters of course – and doesn't. Determined by share prices rather than by market caps, it's a batty index at the best of times and worthy of a country which also gives the world the American Society for Testing Materials' designation for the Susceptibility of Dry Adhesive Films to Attack by Roaches. Goldman, for example, has a weighting in the Dow eight times greater than GE, even though GE has triple the market cap. More importantly, the S&P 500 is also at an all-time high and pretty much everyone is bullish, on the whole: reflation's refreshing, GDP is growing, inflation's benign, bond yields will go on up but only gently and, somehow, neither the central bankers nor even the politicians will get anything too wrong.
Such a view may not be downright panglossian. But is it prudent? We prefer the simple. We are drawn, for example, to the paucity of surnames in Korea. Until the early 20th century, Koreans didn't use them. When Japan colonised the peninsula, it made surnames mandatory. To enhance the perceived prestige of their lineage, most Koreans chose one of the few family names – Kim, Lee, Park, Pak, Shin – associated with the country's landed nobility; and today over 75 million Koreans share some 270 surnames.
There is a moral here for stock selection. Simple criteria, applied consistently. These:
Suggest...
While Opec agrees to limit production, [y]our Global Select team note that the US frackers in the most productive areas – the Permian Basin, Bakken and Oklahoma – continue to improve productivity and lower costs, thus enjoying handsome margins at today's higher prices. Trump has long supported US fracking, and one of his first acts has been to approve the Keystone pipeline. Purely (then) on valuation, Global Select bought Pioneer and EOG as core holdings last summer. For deeper reasons, Simon, Alex and Rosanna have now added Concho and Continental Resources.
Also chipper, selectively, on the US, to Global Energy John Dodd and Richard Hulf have added Antero and Magellan, reflecting the duo's more positive view on US gas and infrastructure. Incidentally, there is much to watch and wait for here. If Trump slaps a 20% duty on (among other things) the (large) US imports of heavy Mexican oil, he might say: "Pay it – or through the Keystone we'll bring the stuff in from Canada." If that's the decision, then…
For European Opportunities, one of Mark and Laurent's consistencies is to use the ebbs and flows of the earnings season to add to preferred stocks if and when they report poor results. The Dutch optical retailer Grandvision disappointed the market with negligible organic growth in Q3. Investors extrapolated, as investors do, and the stock fell more than 20%. Mark and Laurent added. This week the company reported very good organic growth and the share price jumped by more than 5%. "Even so," says Mark, "Grandvision's share price is close to where it was at IPO. That doesn't look cheap, but we think the multiple is worth paying to own the global leader in a structurally growing industry."
For a bond bear, pp Strategic Assets William Littlewood's equities can sing. Since Skyscanner, an unlisted holding, was acquired by China's Ctrip at a 40% premium (for £1.4 billion), William's bought a stake in a rocket. Rocket Internet launches and invests in a range of early stage internet businesses. Oliver Samwer, its charismatic founder and 37% shareholder, has a successful record in reproducing established online businesses in new geographies. Once a much-loved share, the company floated in 2014 at €42.50 per share and traded up to €55. At its present price of €22, the company has about 35% of its market cap in cash and trades at a discount of over 45% to the last valuation of its equity stakes. In William's view, that's unjustified because some of Rocket's businesses in food delivery and online fashion have disruptive and significant potential.
A chart, perchance...
US corporate tax rates and after-tax profits: where's the correlation?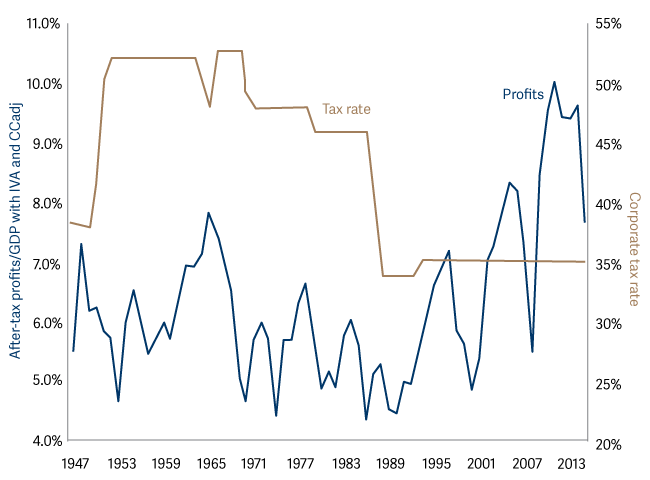 Source: Bureau of Economic Analysis; J.P. Morgan
The eponymous hunter, always seeking the Profit.