Measuring methane: satellites, drones and German shepherds
Key takeaways
Methane has a supercharging effect on global warming
Compared to changing dietary habits, reducing methane leaks is an easy win
New technology makes detecting leaks easier
The Biden administration will impose financial penalties on methane emitters
This could prevent the release of c.37 million tonnes of methane by 2035
---
It's easy to focus on the failings of COP26: the world didn't abandon its misguided obsession with GDP and there was no agreement to eliminate fossil fuels in the timeframe the planet needs.
One area where COP26 did make progress was in addressing methane pollution
One hundred countries representing 70% of the global economy (the notable absentees were China, Russia and India), signed the Global Methane Pledge and so committed to cut methane emissions by 30% from their 2020 levels by 2030.
Methane has a disproportionate warming effect
Although methane's warming effect is relatively short-lived (it decays into CO2 in the atmosphere) it is powerful. According to Scientific American, 'methane is CO2 on steroids'.
Reducing methane emissions can therefore have an almost immediate cooling effect on global temperatures and, in contrast to stopping cows burping or persuading people to change their diets, fixing methane leaks is relatively cheap and is getting easier.
Atmospheric concentrations of methane have increased far more quickly than CO2 concentrations over the last 50 years
The acceleration in methane emissions over the last 50 years has been particularly rapid. The oil and gas industry is responsible for about a third of this, with 'fugitive methane' emissions occurring through venting, leaks and incomplete combustion during flaring.
The concentration of methane in our atmosphere is still rising. This needs to stop
Global atmospheric methane concentration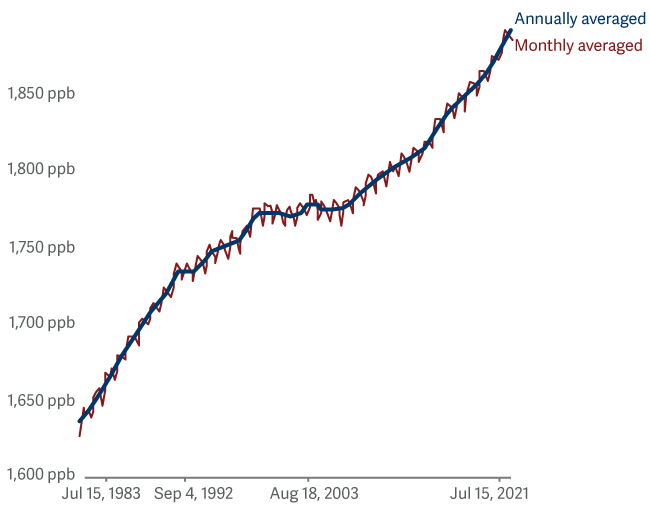 Atmospheric methane (CH4) concentration is measured in parts per billion (ppb). Source: Our World in Data / National Oceanic and Atmospheric Administration (NOAA)
On the same day that the Global Methane Pledge was launched, the US Environmental Protection Agency (EPA) proposed new rules to cut methane pollution from the country's largest industrial source of methane: the oil and gas industry (opens in a new window).
Natural gas is the 'transition fuel' to a low-carbon future…
… or so-says the oil and gas industry. But scientists estimate that only about 3% of gas needs to escape on its journey from wellhead to power plant to make it worse for the planet than coal. Many marginal wells may be emitting more fugitive methane than they are producing usable fuel.
And while old oil and gas wells can continue to pollute for decades after they stop operating, low-income communities are often disproportionately burdened with their negative impacts on the environment and public health.
US oil and gas infrastructure is vast
There are more than a million oil and gas wells, millions of miles of natural gas pipelines, and thousands of compressor stations across the United States.
Historically, this made regulatory oversight of methane emissions difficult. In many cases, the EPA had to rely on companies self-reporting their methane emissions... And although the oil and gas industry has long argued that there is a financial incentive for it to minimise methane leakage, researchers have found actual emission rates to be 60% higher than EPA-reported figures.
Our ability to detect methane pollution is improving rapidly
Increased satellite coverage combined with the ability to process vast amounts of data is giving us a better understanding of the global methane problem.
Complementary technologies such drones, aircraft and ground-based solutions like infra-red cameras, mean it is increasingly difficult for companies not to acknowledge and then address their emissions.
A methane detector: "What's that, boy? A gas leak at the old well?"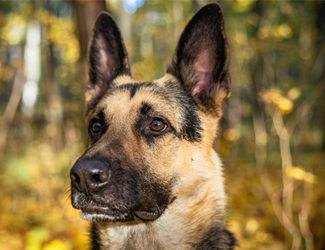 Although not all methane detection methods are high-tech
Incredibly, measurement technology still struggles to compete with the olfactory receptors of man's best friend to sniff out leaks at low concentrations; a dog can detect concentrations of methane as low as 1 part per billion…
The financial implications for energy companies could be significant
Assuming that leakage is greater than historical EPA estimates and that penalties under the new proposals are enforced, energy companies will have an incentive to invest in technology for detecting and reducing their emissions.
Greater transparency regarding the emission intensity of natural gas will have huge implications
for oil majors off-loading older assets;
for the development of so-called 'blue' and 'grey' hydrogen;
and for calculating 'carbon border adjustments'
Addressing methane emissions offers disproportionate cooling benefits
If implemented as proposed, President Biden's new EPA rule could prevent the release of some 37 million tonnes of methane by 2035. That would be equivalent to more than the annual carbon emissions from the nation's fleets of passenger vehicles and commercial aircraft.

---
Why we invest in Montrose Environmental Group
Methane leak detection is increasingly enabled by new technologies and by technology-led companies providing greater insights into where, when and how much methane is leaking.
Montrose Environmental Group is a US-listed environmental services business with over a decade of experience in identifying methane leaks on behalf of its clients. It also has strengths in air-quality testing and in PFAS (perfluoroalkyl and polyfluoroalkyl substances) water-contamination testing and remediation.
Last year, it detected 901k metric tonnes of carbon dioxide equivalent (mtCO2e) of leaking methane. Based on EPA figures, this is equivalent to the emissions from nearly 200,000 cars in the US.
Moving towards a positive future will mean reducing the concentration of greenhouse gases in our atmosphere. Taken in isolation, reducing fugitive methane won't be enough – but it's a good first step. And it's one that Montrose Environmental Group can help the world to take.
---
"Fossil fuel air pollution responsible for 1 in 5 deaths worldwide" Harvard T H Chan School of Public Health