The Hunters' Tails: Of automata and agents
The capacity of all living beings to act is something Donald Trump holds as dear as a frog does its tongue. The spit thereof is, like ketchup which thins when you shake the bottle, a non-Newtonian fluid. It defies Newton's law of viscosity, and its flow changes when exposed to shear (unaligned) forces. When a frog's tongue hits its prey at speed, its saliva becomes watery and so covers the insect. Then, as the tongue reels in, the saliva becomes viscous like honey and holds the victim fast.
According agency is innately human. For nearly five centuries, the Strasbourg Cockerel cocked its head, flapped its wings and crowed on the hour atop the Clock of the Three Kings, originally built between 1352 and 1354, and refurbished by the clock-making brothers Isaac and Josias Habrecht between 1540 and 1574. Beneath the cockerel, the astrolabe turned and the Magi played out their hallowed parts. Under the Habrechts' agency, the cockerel, Magi, Virgin and Child were joined by a host of other automata: a rotation of Roman gods who indicated the day of the week; an angel who raised her wand as the hour was rung; another who turned her hourglass on the quarter hour; a baby, a youth, a soldier and an old man representing the four stages of life, who rang the quarter hours; and above them, a mechanical Christ who came forth when the old man had finished ringing the final quarter hour – but then retreated to make way for Death to strike the hour with a bone.
Now Trump, of course, is having trouble with such agencies, if not automata, even as he insists that his cathedral is "fine-tuned". But at least appointing businessmen is nothing new. In 1953, Eisenhower appointed General Motors' boss, Charles Wilson, Secretary of Defence. An almighty row followed. Wilson said he had long thought that "what was good for our country was good for General Motors, and vice versa." His appointment stood. The bullish scenario is that Trump's agency will cut and reform taxes, repatriate earnings and deregulate. If all that raises economic growth, then stocks will move on up to new records (for a while, at least), simply because the:
Agency of equities is earnings ...
Forecast earnings for UK miners are up by over 12% since the start of this year. In Capital and UK Select, for those rising earnings we are happy to hold Anglo-American. Per et pro that latter fund, Ed Legget is feeling positive: "On just 11x forecast 2017 earnings, the aggregate valuation of our portfolio remains attractive. We believe that as our holdings deliver on these earnings, the 'valuation gap' to the rest of the market should start to close and so enable the fund to continue to recover the relative losses it endured in the first half of 2016." Ed's 'running the winner' Fenner (conveyor belts and silicone products), which has rallied after a positive update on trading. That was its third upgrade to forecast profits in nine months; and confirms that their mining and oil & gas markets have turned.
For UK Smaller Companies, Mark Niznik and William Tamworth continue to take pleasure in the earnings of Somero, the global leader in concrete-levelling machinery. Its sales and profits are ahead of expectations once again. Yet the shares continue to trade on a modest 11x this year's earnings – or a free cashflow yield of 7%. The company has a rare monopolistic position globally – and a strong balance sheet – and is doing so well that Mark and Will are (modestly) 'top-slicing'. Another thriving holding in the fund is a beneficiary of Brexit, Games Workshop, which makes and sells fantasy model games and figurines. It has just increased by 17% its forecast profits for this year and the company is seeing growth across all areas of its business: retail, wholesale and online and in all of the countries in which it operates.
Direct Line is a new equity holding in High Income. Says Alex Ralph: "We see the potential for further special dividends and feel that innovation and re-investment should produce more growth in earnings than the market expects."
Finally, for US Smaller Companies Cormac Weldon is seeing rising earnings from online brokerage E-Trade. The same goes for technology stocks Mercury Systems (defence-related technology) and Advanced Energy Industries (semi-conductors). The cable sector's performing well on the back of rumoured consolidation – which Cormac considers very likely. The fund's holding in Liberty Broadband continues forth to shine.
A chart, perchance ...
On average it takes about 4 years to put together a trade deal.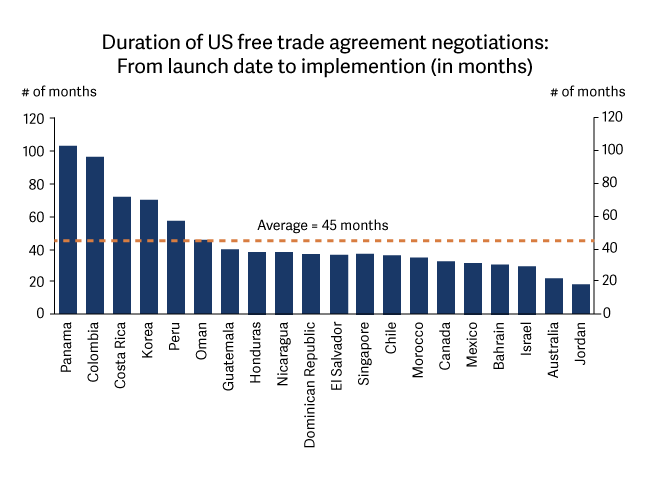 Source: Freund and McDaniel, Peterson Institute for International Economics, DB Global Markets Research.
The eponymous hunter, always seeking the Profit.